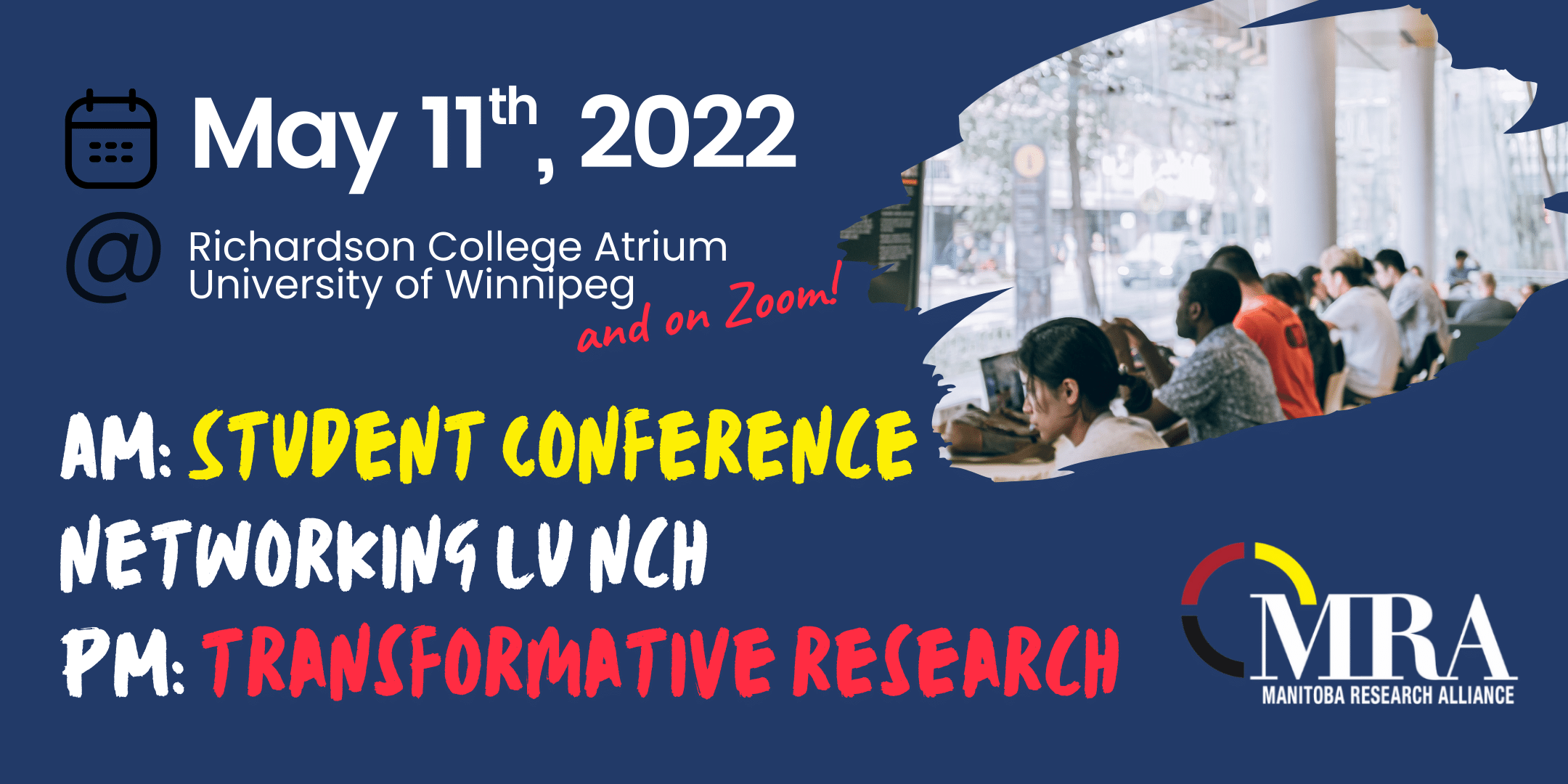 This is a one-day conference featuring students, community members, and lunch! This is a HYBRID event! Participants are encouraged to join in person, but we have a virtual (Zoom!) option for those who join us online.
The event is open to Manitoba Research Alliance co-applicants, academics, students and community organizations and members. Registration is required to attend in person before May 5th, 2022. We are working on the possibility of offering part of the program virtually.
Morning
9:00 Welcoming Remarks
9:20 Three Student Presentations:
Yutaka Dirks, University of Manitoba – Housing Advocacy: Factors Affecting Involvement, Depth of Engagement, and Community Organizing Capacity

Matt Paterson, Brandon University –  Transgender Comfort in Transitional Housing Settings in Brandon, Manitoba

Tammy Nelson, University of Manitoba -Development of a Two-Eyed Seeing Approach to Working with Adult Survivors of Childhood Sexual Abuse
10:30 UBC Collective for Gender+ in Research (find more detail below!)
11:15 Community-Based Research Training Centre Panel with Joel Templeman (University of Calgary), Tammy Nelson (University of Manitoba) and Myla Held (University of Winnipeg) and hosted by Dagen Perrott. 
Lunch: Lunch Provided by Diversity Foods. Opportunity to network and meet others doing community-based research.
Afternoon
1:15 Introduction to Transformative Research with Shauna MacKinnon, Michael Barkman and Sarah Cooper.
1:45 Facilitated Workshop on Transformative Research (details below!)
3:30 Event Wrap-Up
UBC Collective for Gender+ in Research
The UBC ORICE Gender+ Data Justice Guide project originated in May 2020 with the numerous calls for the collection of disaggregated data along multiple axes of identity, many of which were amplified by the ongoing COVID-19 pandemic. Five cohorts of student researchers have produced a guide on how data justice principles can be centred during community-based research projects, through a series of reflexive questions. During this interactive workshop, participants will engage in exercises designed to inspire critical questions about data justice thinking. Such questions will consider how research workflows can better tune into the frequency of historically marginalized narratives that are systematically excluded for more just processes and outcomes.

Transformative Research Conversation
Join us for a community conversation about transformative research! Last spring, members of the MRA met to discuss what transformative research means to us. We believe that transformative change requires a process of political mobilization on multiple levels inside and outside the conventional public policy system and that research is an important part of that process. This afternoon will offer examples and room to explore new transformative research projects that can be developed to fill gaps, focus on different central ideas, and work towards the 2023 provincial election.
We look forward to seeing you !
If changes to Manitoba Public Health orders or University mandates occur, the event may have to change in format. Masking and/or vaccination protocols will be communicated ahead of the event.
We strive to host inclusive, accessible events that enable all individuals to engage fully. To request an accommodation or for inquiries about accessibility, please contact mra@policyalternatives.ca or 204-927-3209.