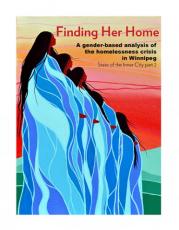 This winter, a 53 year-old woman died overnight in minus 32-degree temperatures, frozen to death on the streets of downtown Winnipeg. This tragic and preventable loss serves as a reminder of how Winnipeg is failing to support people who need it the most and that the homelessness crisis affects women. A new study released today renews calls to action to deal with this tremendously unjust situation.
In 2016, community-based organizations asked the Canadian Centre for Policy Alternatives Manitoba office to coordinate a study on women's experiences of homelessness. It was noted that the province was celebrating 100 years since some women had received the right to vote; however, many women continue to experience marginalization, particularly when it comes to housing and homelessness.  The results of this study, Finding Her Home, renew the call for more public investment and coordination across government and community to end homelessness.  This report was released on International Women's Day – March 8, 2017.
A gender-based analysis when applied to program and policy development considers the intersections of gender, race, class, sexual identity and other factors. This is important since a "gender-blind" approach – looking at men and women's experiences together – tends to overlook the unique experiences and needs of women. There are many documented cases of such "gender-blind" approaches not working for women – from health conditions to drugs tested only on men – that leave women behind. Homelessness is no different.
Read the full report here